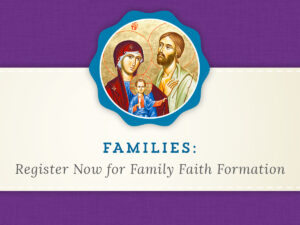 "To maintain a joyful family requires much from both the parents and the children. Each member of the family has to become, in a special way, the servant of the others."
-St. John Paul II
Dear Parents and Guardians,
This program is designed to help you learn, live and transmit our beautiful Catholic teaching. It is in living the faith that every single one of us is called to become holy.
Once a month, we will meet as adults to learn about and discuss an aspect of Church teaching.  You will then take that knowledge into your homes and teach your children about what you learned using activities we provide.
There will also be opportunities to gather as a community in the form of picnics, nature walks, and others designed to foster friendship.
This program is an alternative to traditional CCD religious education and if you are interested in learning more I created this: Family of Faith_ Parent Overview.
Want a sneak peek of our calendar?
To register your family, use the Registration Form with Faith Family Formation 2020-2021 form and choose option F: Family of Faith.
If you have any questions about the program or registering, please feel free to email me: sadie.peterson@archbalt.org
God bless,
Sadie