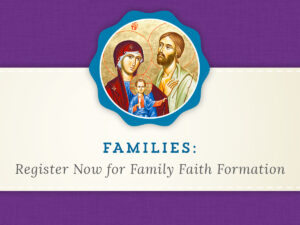 "Catholic parents must learn to form their family as a "domestic church," a church in the home as it were, where God is honored, his law is respected, prayer is a normal event, virtue is transmitted by word and example, and everyone shares the hopes, the problems and sufferings of everyone else. All this is not to advocate a return to some outdated style of living: It is to return to the roots of human development and human happiness!"                    – Pope John Paul II
Dear Parents and Guardians,
Interested in an alternative to traditional CCD religious education? Read this:  Family of Faith_ Parent Overview.
Find out what we plan on doing this year by viewing the updated calendar below.
Our first meeting will be Wednesday, September 16th from 7-8:30 pm in the parish center. Due to COVID restrictions you must let me know if you will be present at the meeting, even if you have not had a chance to register. 
When you arrive, you will need to wear a face covering and wait until I can fill out an entry questionnaire (Entry Questionnaire) for you and take your temperature.  We will also need to sit six feet apart.
If you have not registered yet, you may bring a copy of the registration to the meeting with you. Use the Registration Form with Faith Family Formation 2020-2021 form and choose option F: Family of Faith.
If you have any questions about the program or registering, please feel free to email me: sadie.peterson@archbalt.org
God bless,
Sadie