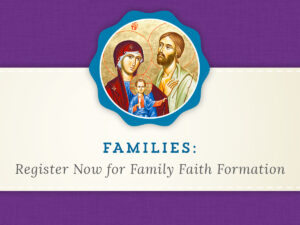 Please consider filling out the survey if you haven't already: Family of Faith Year Survey
"Catholic parents must learn to form their family as a 'domestic church,' a church in the home as it were, where God is honored, his law is respected, prayer is a normal event, virtue is transmitted by word and example, and everyone shares the hopes, the problems and sufferings of everyone else. All this is not to advocate a return to some outdated style of living: It is to return to the roots of human development and human happiness!"                    – Pope John Paul II
Dear Parents and Guardians,
Welcome to the family catechesis (pronounced kat-eh-kee-sis) program at St. Bartholomew Catholic Church. Family catechesis is an alternative to traditional CCD where the parents meet monthly to learn more about and explore their faith.  They transmit that faith to their own children at home with the help of resources provided.
Family of Faith_ Parent Overview.
There are normally two meetings a month; one where the parents gather and discuss the lessons for the month and one community meeting where we gather for fellowship as a community. See our calendar below. It will be updated, so be sure to check back.
On the horizon:
Our next parent meeting will be Thursday, March 11th at 7:00 pm in the historic church and available virtually. *This is a change*
Saint resources for March
March 19 St._Joseph  This is a solemnity!  That means that, even though it falls on a Friday, you can treat it like a Sunday of Lent! That's how special St. Joseph is to our faith.
March 25 The_Annunciation Another Solemnity!  Note that it falls exactly nine months before Christmas.
March 31 Bl Natalia Tulasiewicz
Lent is here!
Find resources for Lent below:
Ash_Wednesday_Mass_Journal_and_Coloring_Page
Lent A Season of Prayer and Penance
Stations of the Cross reflections for kids
If you have any questions about the program or registering, please feel free to email me: sadie.peterson@archbalt.org
God bless,
Sadie
If you have not registered, but are interested in doing so, please see the link to registration form. Registration Form with Faith Family Formation 2020-2021 Or contact us!