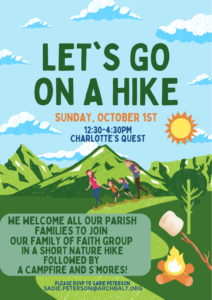 The family is, so to speak, the domestic church. 
-Vatican II: Lumen gentium, paragraph 11
Our topic in Family of Faith this year is the Life of Christ
Our Calendar of Events 2023-2024
What's coming up:
Parent Meeting: Thursday, September 28th from 7 – 8:30pm
Family Hike and S'mores, Sunday October 1st 2:30-4:30 pm
Location: Charlotte's Quest
Saint Resources for September 
What does our program look like?
What is Family of Faith?
 a family catechesis (pronounced kat-eh-kee-sis) program at St. Bartholomew Catholic Church.
an alternative to traditional CCD where the parents meet monthly to learn more about and explore their faith.
where parents transmit the faith to their children at home with the resources provided.
an emphasis on building community within the church through community gatherings outside of the liturgy.
Questions? Comments? email sadie.peterson@archbalt.org